1991 Pacific typhoon season
From Wikipilipinas: The Hip 'n Free Philippine Encyclopedia
The 1991 Pacific typhoon season has no official bounds; it ran year-round in 1991, but most tropical cyclones tend to form in the northwestern Pacific Ocean between May and November.<ref>Gary Padgett. May 2003 Tropical Cyclone Summary. Retrieved 2006-08-26.</ref> These dates conventionally delimit the period of each year when most tropical cyclones form in the northwestern Pacific Ocean.
The scope of this article is limited to the Pacific Ocean, north of the equator and west of the international date line. Storms that form east of the date line and north of the equator are called hurricanes; see 1991 Pacific hurricane season. Tropical Storms formed in the entire west pacific basin were assigned a name by the Joint Typhoon Warning Center. Tropical depressions in this basin have the "W" suffix added to their number. Tropical depressions that enter or form in the Philippine area of responsibility are assigned a name by the Philippine Atmospheric, Geophysical and Astronomical Services Administration or PAGASA. This can often result in the same storm having two names.
Storms
31 tropical cyclones formed this year in the Western Pacific, of which 29 became tropical storms. 20 storms reached typhoon intensity, of which 5 reached super typhoon strength.
Typhoon Yunya
After a month without activity in the Western Pacific, a weak tropical depression (with winds of only 10 knots) developed just east of the Philippines and south of the Tropical Upper Tropospheric Trough on June 11. Located in an area of little wind shear, it headed northwestward, developing spiral-band outflow and becoming a tropical storm on the 12th. As a small central dense overcast (CDO) developed over Yunya, it rapidly developed, becoming a typhoon on the 13th as it paralleled the eastern Philippines. The mid-level ridge forced Yunya westward, where it briefly reached a peak intensity of 120 mph (195 km/h) winds on the 14th. Subsequently, the eastward building of the subtropical ridge produced unfavorable vertical wind shear that weakened Yunya to a minimal typhoon before hitting Dingalan Bay, Luzon early on the 15th. Yunya left Luzon as a minimal tropical storm at Lingayen Gulf. It turned northward due to a break in the ridge, and dissipated on the 17th near southern Taiwan due to the vertical shear.
Yunya would normally have been an uneventful cyclone, but on the day it hit Luzon, the colossal eruption of Mount Pinatubo took place. The ash cloud that normally would have been dispersed across the oceans was redistributed over Luzon by the cyclonic winds of the typhoon, greatly exacerbating the damage caused by the eruption. The water-laden ash fell over the evacuated Clark Air Base, as well as the rest of Luzon, resulting in downed power lines and the collapse of flat-roofed buildings. In some areas it was practically raining mud.
Yunya exited Luzon through the Lingayen Gulf as a weak tropical storm and then turned north toward a break in the subtropical ridge. The system continued to weaken due to the strong vertical wind shear. It then brushed the southern coast of Taiwan as a tropical depression and finally dissipated before it could complete full recurvature into the mid-latitude westerlies. Yunya directly caused one death from the flooding and heavy rainfall it left.<ref>Joint Typhoon Warning Center. Typhoon Yunya. Retrieved on 2006-01-10.</ref>
Typhoon Amy
145 mph Typhoon Amy, having developed on July 12 over the open Western Pacific, brushed southern Taiwan on the 18th. Its outflow became restricted, and Amy hit southern China on the 19th as a 120 mph typhoon. It caused heavy flooding, resulting in 99 casualties, 5000 people injured, and 15,000 people homeless. In addition, Amy caused the sinking of the freighter Blue River, resulting in an additional 31 deaths.
Typhoon Brendan
On July 22, minimal Typhoon Brendan hit northern Luzon, causing additional flooding to an area devastated by the Mount Pinatubo eruption and Typhoon Yunya. Brendan continued to the west-northwest, and hit southeastern China near Macau on the 24th. The typhoon caused 15 feet high mudflows on Luzon, resulting in 3 fatalities and moderate damage. When Brendan's flooding combined with abnormally high spring and summer rainfall in China, over 100 additional casualties occurred.
Typhoon Gladys
Minimal typhoon Gladys brushed by southern Japan on August 22. It moved to the northwest, and hit the Korean Peninsula on the 23rd. It caused more than 20 million yen of damage in Japan, more than 270 million won of damage in South Korea, and in South Korea, it left 103 dead or missing and more than 20,000 homeless.
Super Typhoon Mireille
Main article: Typhoon Mireille
On September 13, Tropical Depression 21W developed over the open Western Pacific. It tracked westward under the influence of the Subtropical Ridge, slowly organizing until becoming a tropical storm on the 15th. A small storm, Mireille rapidly became a typhoon on the 16th, but larger Tropical Storm Luke to its north and Typhoon Nat to its west kept Mireille a minimal typhoon. When the other 2 storms were far enough away, Mireille rapidly intensified, reaching Super Typhoon strength on the 22nd with a peak of 150 mph winds. The storm recurved to the northeast, where it slowly weakened until hitting southwestern Japan on the 27th as a 105 mph typhoon. Mireille continued to the northeast, and became extratropical later that day, after causing 52 casualties and heavy crop damage amounting to $3 billion (1991 USD). The name Mireille was retired after this season and was replaced by Melissa.
Tropical Storm Thelma (Uring)
Main article: Tropical Storm Thelma
50 mph Tropical Storm Thelma hit the central Philippines on November 4. It slowly tracked across the Archipelago, bringing heavy flooding across the islands. Vertical shear weakened it as it continued westward, and it dissipated on November 8 just after hitting southern Vietnam. Thelma, though a weak storm, caused dam failures, landslides, and flash flooding, resulting in a horrendous death toll of 6,000 people.
Super Typhoon Yuri
Super Typhoon Yuri was the most powerful storm during the season, with winds reaching up to 150 knots (278 km/h), and a minimum recorded pressure of 885 mbar. This made Yuri the third most intense tropical cyclone on record at the end of 1991; it now ranks as the 11th most powerful. Yuri caused $3 million (1991 USD) in damage to Pohnpei, including the loss of a radio tower. In Guam, the storm caused extensive beach erosion and destroyed between 60 and 350 buildings. There, damage totaled to $33 million (1991 USD).<ref>Joint Typhoon Warning Center. Super Typhoon Yuri. Retrieved on 2007-05-18.</ref>
Storm names
Western North Pacific tropical cyclones were named by the Joint Typhoon Warning Center. The first storm of 1991 was named Sharon and the final one was named Zelda. The names Mireille and Thelma were retired after this season.
Abe

Becky

Cecil

Dot

Ed

Flo

Gene

Hattie

Ira

Jeana

Kyle

Lola

Manny

Nell

Owen

Page

Russ

Sharon 1W
Tim 2W
Vanessa 3W
Walt 4W
Yunya 5W
Zeke 6W
The Philippine Atmospheric, Geophysical and Astronomical Services Administration (PAGASA) used its own naming scheme for tropical cyclones within its area of responsibility. Lists were recycled every four years. This was the list set for 1991.<ref name="PAGASA namelist">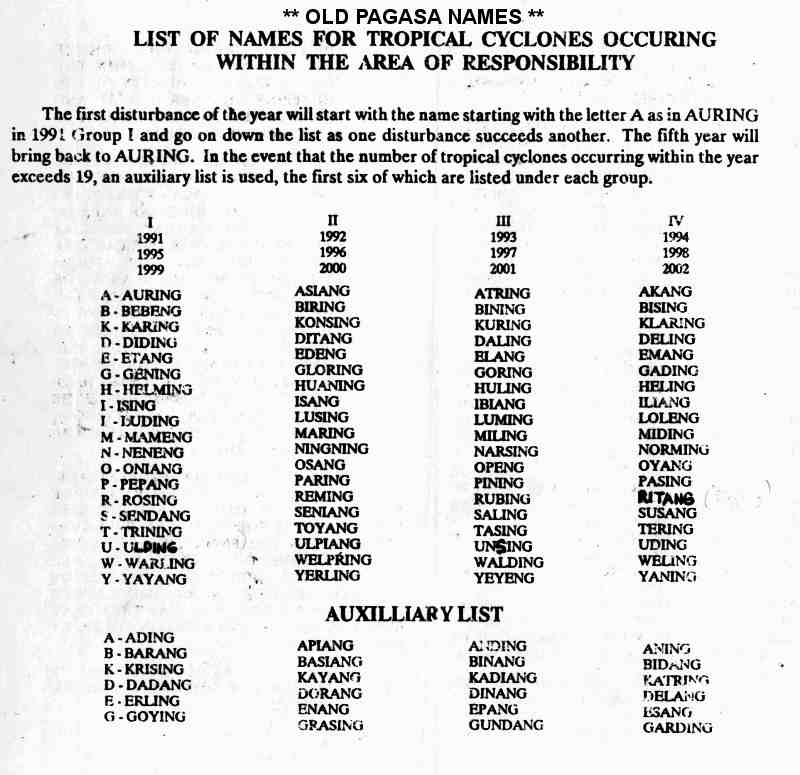 </ref> This is the same list used for the 1987 season, with the exception of Karing, Helming and Sendang which replaced Katring, Herming and Sisang. The name Uring was retired after this year and was replaced by Ulding.
Auring
Bebeng
Karing
Diding
Etang

Gening
Helming
Ising
Luding
Mameng

Neneng
Oniang
Pepang
Rosing
Sendang

Trining
Uring
Warling
Yayang
Ading

Barang
Krising
Dadang
Erling
Goying

References

<references />

See also

External links




Original Source

Original content from Wikipedia

underGNU Free Documentation License. See fulldisclaimer.